Surrounded by majestic mountains, Club Med Guilin is a cherished destination by domestic and international travellers for its 46-hectare (0.46 square kilometre) pristine landscape, unique karst landforms and open-air art museum. Located where the towns of Guilin and Yangsuo meet, guests at Club Med Guilin can take in the appealing landscape far away from the hustle and bustle of everyday life and immerse themselves in art and nature. Guilin's idyllic vista is the ideal backdrop for vacationers to savour the happy moments with their loved ones and bring home more than just memories.
Club Med Guilin provides a transformative holiday experience where guests can rejuvenate surrounded by mountains, lakes, lush greenery, beautiful architecture and inspiring sculptures. Guests can enjoy serene leisure vacation time in the activity series curated with the theme of, "Bring Home More Than Just Memories, discover new passions." The activity series includes four pillars: Bring Home Experiences, Bring Home Togetherness, Bring Home New Perspectives and Bring Home New Tastes. In line with the "Transformative Holiday" concept unveiled by Club Med earlier this year, the journey of creative discovery at Club Med Guilin aims to provide each guest with the opportunity to become fully reinvigorated, above-and-beyond the normal hassle-free Club Med experience, through one transformative holiday.
Bring Home Experiences: Immersing Oneself in Mysterious Li Riverside and Chinese Culture
At Club Med Guilin, guests and their families have the opportunity to immerse themselves in a variety of natural and inspirational cultural experiences. A treasured journey is travelling the majestic Li River by boat, described as one of the world's Top 10 Most Beautiful Landscapes from National Geographic Magazine. Guests can also observe the culture and beauty of the Longji Rice Terraces, practise Taichiand meditate amongst the dramatic vistas.
For more identifiably artistic endeavours, guests can visit the resort's Art Center where they can participate in bead making, pottery, handmade soap making and Chinese knotting. If visitors are lucky enough to be at the resort during peach blossom season in the Spring, they can gain inspiration from the exquisiteness of the blossom.
With assistance from our professional guides, guests can also experience a rich variety of exercise endeavours, such as mountain biking, flying trapeze and indoor as well as outdoor climbing. These sporting activities allow guests the opportunity to authentically enjoy the charm of Guilin in unique ways.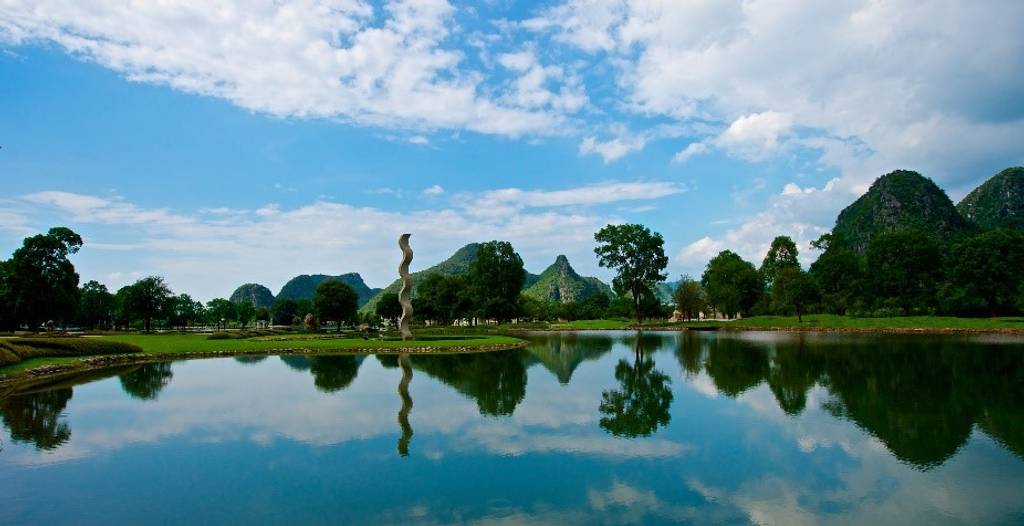 The beautiful vista at Club Med Guilin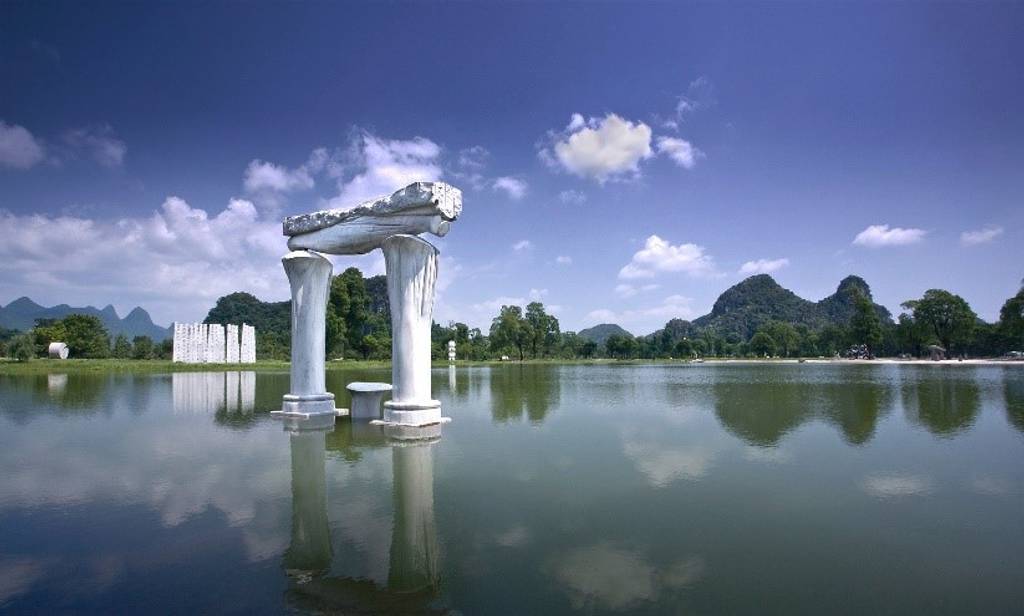 Natural scenery with a contemporary sculpture in Club Med Guilin