Fighting Food Waste for the Future - Club Med Bali's Innovative and Sustainable Approach
Using smart scales, Club Med Bali successfully reduced food waste in their kitchens by 56%.
The resort is also focusing on responsible F&B and raising children's awareness and knowledge about food waste through fun activities in its educational garden.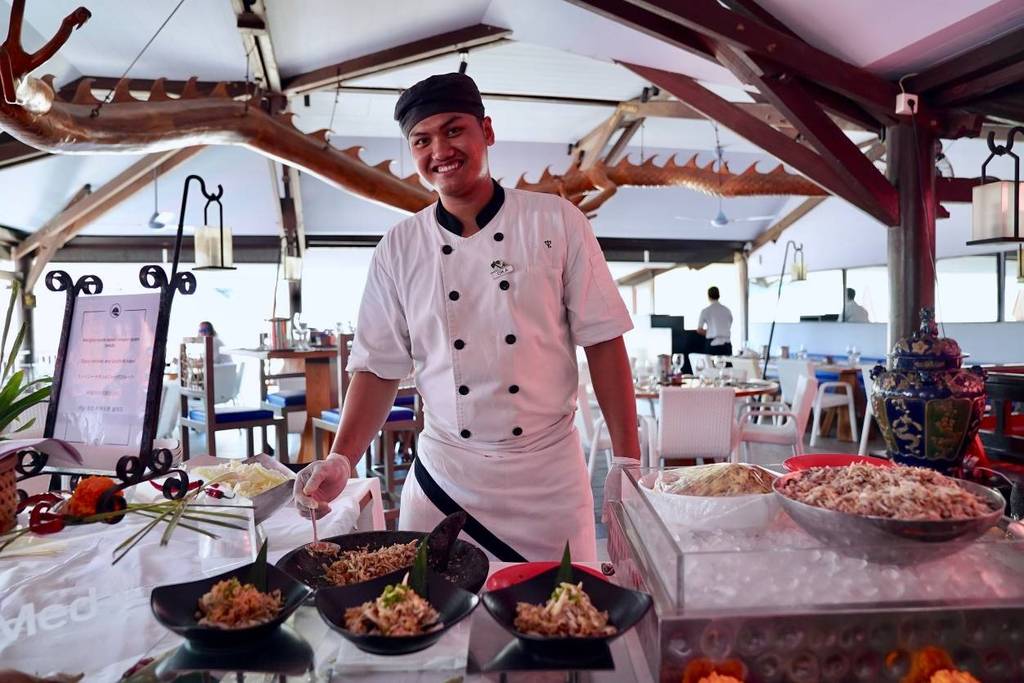 Set in over 20 acres of tropical landscape, with 393 rooms, a spa, pools, sports courts, and multiple bars and restaurants, Club Med Bali is one of the island's most sustainable resorts. Club Med, the pioneer in premium all-inclusive holidays, have been actively delivering sustainable experiences over the past 60 years, including energy and water efficiency and using organic and local products wherever possible.
Well-known for its endless all-you-can-eat buffets, Club Med constantly seeks to limit the amount of food that is wasted in every resort. Earlier in 2018, the group partnered Winnow to bring in advanced technology that is able to automatically measure what gets disposed of and receive actionable data that helps the chefs reduce overproduction in the kitchens at Club Med Bali.
● The team reduced food waste by 56%, significantly reducing the negative impact on the environment
● Curbing food waste has also positively impacted the hotel's bottom line with estimated savings of 420,000 IDR per year.
How does it work?
The Winnow system comprises of a set of digital scales and tablet, which is connected to the cloud, making it quick and easy for chefs to measure food waste. Teams then receive daily reports, which highlight where the waste is occurring, thereby providing insights to make their operations more efficient and sustainable.
Puchon Basoodeo, Executive Chef at Club Med Bali shares, "With the help of the Winnow systems, we have improved our food offering in the resort. Through our savings from reducing food waste, we are able to further invest in higher quality products and healthy ingredients that are mostly sourced locally."
Maxime Pourrat, Winnow's Managing Director APAC added, "We are on a mission to connect the commercial kitchen, create a movement of chefs and inspire others to see that food is too valuable to waste. It is a privilege to work with such a forward-thinking hospitality chain as Club Med and help them further improve their responsible processes in their food and beverages offer."
Club Med Bali also chips in to inspire the next generation when it comes to reducing food waste. In their pedagogical garden of the resort, kids have a hand in growing vegetables and herbs, to foster a sense of responsibility and a strong regard for the environment. At the end of each gardening activity, the kids will be encouraged to write a pledge on a leaf to not throw food away unnecessarily. Raising awareness on both organic practices and food waste through a hands-on activities, are part of Club Med's DNA to groom the young ones.
Following the success of Winnow in Club Med Bali and Club Med Phuket, the system is currently being adopted in Club Med Cherating Beach in Malaysia. The brand hopes to continually expand this deployment across the region and the process is well underway in other resorts such as Club Med Kani in Maldives and Club Med Bintan in Indonesia.
With sustainability and responsibility top of mind for the all-inclusive resort brand, 74% of Club Med resorts across the globe have achieved "Green Globe Certification", with the objective to reach 100% in the near future. The "Green Globe Certification" is the highest and most thoroughly tested standard of responsible -tourism; an annual review of sustainable practices across all aspects of business from training and recruiting staff, to food and energy wastage, resort construction and biodiversity preservation, including the preservation of local culture of the surrounding communities. Club Med's ongoing commitment to responsible tourism has seen countless small and large scale initiatives implemented into the daily operations of resorts worldwide.